Sugar Creek Smokehouse is the latest venture to open at Zarraffa's multi-million-dollar HQ and the future home of Distillery Road Market (DRM).
Sugar Creek Smokehouse will offer guests locally sourced meats smoked fresh on-site out of two re-purposed shipping containers which will eventually be rehoused within the DRM precinct.
Owner Kenton Campbell says it was the result of the COVID-19 lockdowns that created the necessary conditions to start creating his dream and celebrating an authentic food experience within reach of the Gold Coast, Brisbane and surrounds.
"I love barbequing, the enjoyment that food provides, and being able to bring good company together to share a meal in the outdoors," Kenton said.
"Over the last couple of years, I started smoking meats purely as a hobby, then purchased a small smoker and decided to take a trip over to Texas to experience the home of smoked meats—it was then that the idea was born."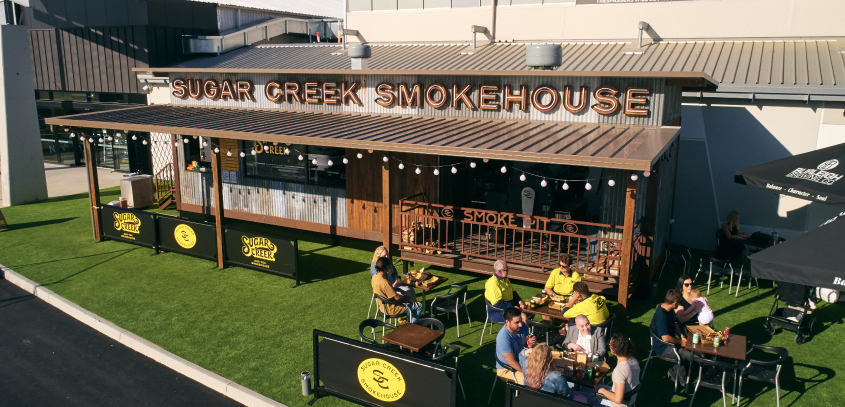 The container fit-out will feature a rotisserie-style offset smoker, enabling the smoking process and flavours to be controlled while providing an authentic flavour profile, and has the capability to smoke hundreds of kilograms of meat per day.
The venue will also be fully licensed with drinks, including tinnies of local craft beers and spirits, available to complement the meaty menu.
"It was my vision to create signature flavours; an authentic 'Aus-Tex' venue, using the highest quality meats sourced locally that are smoked fresh daily and to perfection for everyone's enjoyment," Kenton said.
"Flavours will be everything at Sugar Creek Smokehouse. The entire menu has been crafted to harvest a deeper sense of enjoyment and a flavour hit from every bite, turning a casual lunch or dinner for the whole family into something to savour and really enjoy."
Open Thursday to Sunday from 11am to 7pm with seating for up to 44 diners, Sugar Creek Smokehouse will offer a shaded outdoor area located near the smoker for the ultimate sensory experience.
Sugar Creek Smokehouse, Zarraffa's Coffee's national headquarters and its bespoke café experience – Kiwanda Café, are the anchor tenants of the cultural dining mecca that will be DRM, set to offer a world class destination for authentic food experiences and entertainment.
Located midway between Brisbane and the Gold Coast, the one-of-a-kind DRM venue will provide a compelling destination designed to celebrate Australia's love of fresh produce, dining and entertainment with a mix of retail letting options.
Rising from the ashes of a reclaimed commercial warehouse, the 18,000+ sqm site is being reimagined as a space for families, a source of regional growth and a magnet for tourists and the global food generation.
DRM is expected to open late end 2021 and the Sugar Creek Smokehouse is proof-positive of what's to come.
"I've personally invested my heart and energy into a long-held dream to create food and beverage experiences that make people happy.
It started with Zarraffa's over 20 years ago; the simple joy in making something that brings a smile to people's faces. With Distillery Road Market, it will be about creating a home for these types of experiences."
"Sugar Creek Smokehouse is named for its historical significance to cane growing in the Eagleby area and the generations who grew the sugar cane. Today, my hope is that it signifies life's little pleasures – to enjoy and share in great food experiences in your own backyard."
Sugar Creek Smokehouse
124 Distillery Road, Eagleby
Opening hours: 11am to 7pm, Thursdays through to Sundays
https://www.loed.com.au/wp-content/uploads/2020/11/Smokehouse.jpg
379
868
Mark Honeysett
https://www.loed.com.au/wp-content/uploads/2022/06/LOED-Logo-Inline_header-340.png
Mark Honeysett
2020-11-26 12:08:16
2020-11-26 12:08:16
Coffee King innovates with new 'Aus-Tex' Smokehouse