What do holographic surgery, rocket motors and drones have in common?
They are the first industries set to be nurtured for global success through a new incubator that officially opened in City of Logan today.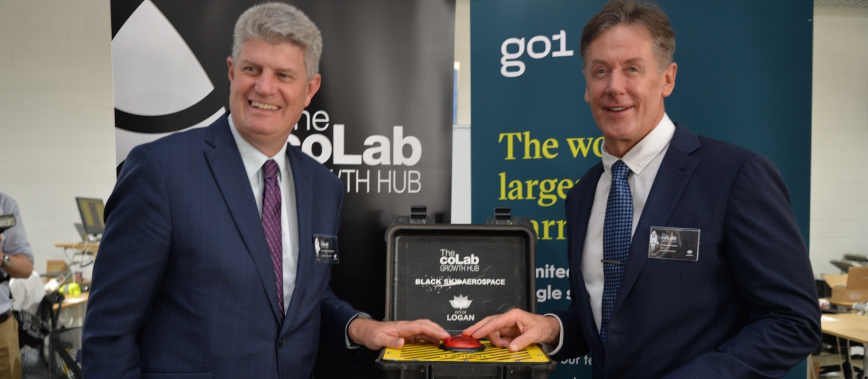 Mayor Darren Power launched the coLab Growth Hub with Queensland Minister for Tourism Industry Development and Innovation, the Hon Stirling Hinchliffe.
"Logan City Council has developed the coLab Growth Hub in collaboration with global edu-tech company Go1 as a place where fast-scaling ventures can grow in a supported and globally-connected environment," Cr Power said.
"These ventures will boost our region's economy and establish the city as a world-leader in supporting fast-growing and innovative entrepreneurs.
"It only takes a spark of creativity and entrepreneurship to set the world on fire – and the City of Logan wants to become an innovative hotbed."
Cr Power said highly qualified and certified entrepreneurs-in-residence would mentor business owners and their employees, with tailored development programs and fully serviced office spaces also on offer.
"The firms that will grow from the coLab already have significant capital investment and mature business models, as well as a demonstrated potential for growth and maturity," he said.
"I'm so excited to see Black Sky Aerospace, akunah and National Drones signing on as the first Portfolio Companies at the coLab.
"These entrepreneurs have already shown they can take their ideas to the world from the City of Logan.
"We want our economy to be resilient to economic disruptions and able to deliver long-term growth, and innovation is the key to that transformation."
Minister Hinchliffe said the Logan initiative would help to create great opportunities for local entrepreneurs.
"The Palaszczuk Government's Advance Queensland Program proudly backed the growth of Go1 from local start-up to a global edu-tech," Mr Hinchliffe said.
"It's fantastic to see Go1 now sharing experience and worldwide connections with Logan entrepreneurs.
"We know innovation is critical to creating jobs and ensuring Queensland is the place to be to invest and thrive.
"Every product we use today started as an idea that was refined and developed into a job creating industry.
"Several Queensland innovators are already filling multi-million-dollar overseas orders and supporting new jobs at home.
"That's what makes incubators like the coLab Growth Hub so important for nurturing local innovators to grow ideas into the Queensland industries of the future."
Entrepreneur-in-residence and Go1 co-founder, Vu Tran, said the organisation was thrilled to be playing a pivotal role in establishing the coLab.
"Go1 was born and bred here, and we're looking forward to doing our bit in growing Logan's scale-up community," he said.
"We have a strong belief that Logan's future as a globally viable and exciting place for innovative and high-growth companies to call home is well within reach.
"As a community and as an ecosystem, we will all benefit from attracting and growing great, innovative companies in our city and helping them succeed."
Council has appointed an independent Advisory Board to review Portfolio Company applications and make recommendations. The board has been appointed for an initial one-year term and is made up of experienced entrepreneurs and experts in developing and scaling new ventures.
In addition to Go1, Council has partnered with the Los Angeles-based Network for Global Innovation to deliver the coLab program.
For more information about the coLab Growth Hub, phone 3412 4328, email admin@thecolab.online or go to thecolab.online
https://www.loed.com.au/wp-content/uploads/2021/03/CoLab-Launch-01.png
379
868
Mark Honeysett
https://www.loed.com.au/wp-content/uploads/2022/06/LOED-Logo-Inline_header-340.png
Mark Honeysett
2021-03-26 16:29:39
2021-03-26 16:29:39
Sky's the limit for City of Logan entrepreneurs