Study confirms Logan is booming
The City of Logan has enjoyed unprecedented population and housing growth over the past decade, a new study has found.
And there are strong indicators that the trend will continue for at least another 15 years.
The Logan Housing Study, released today, is the first step in a three-stage Housing Strategy by Logan City Council to ensure that future housing and residential development is suitable, accessible and within serviced locations.
It provides research on which Council can base considerations for higher density development around transport corridors while at the same time preserving and protecting Logan's semi-rural and large suburban blocks for those who prefer that lifestyle.
The Strategy will also guide the type, design and quality of housing for Logan's population, which is one of the most diverse in Australia with 217 different ethnicities speaking more than 50 languages.
The Housing Study found that affordable choices for housing and high availability have made Logan a magnet for families.
Many new residents have come from other parts of Queensland and New Zealand.
In the last decade there have been more than 26,000 new residential dwellings approved in Logan. From 2015-2019, approvals were in excess of 3000 annually and just shy of 4000 in 2017/18.
From 2010/11 to 2018/19 (last full year of data available) annual residential dwelling approvals in Logan have soared 77 per cent.
Logan has the potential to grow by an additional 56,000 dwellings by 2036 with more than $18 billion in Council and government-funded infrastructure projects planned for the city.
At June last year, the City of Logan was home to 334,358 residents and had seen an average annual population growth rate of 1.9 per cent. By 2041, as many as 586,000 people are expected to live in the city.
Some key snapshots from the Survey shows a typical Logan family:
Lives in a detached (stand-alone) dwelling with at least three bedrooms and a double garage
Nearly a quarter of residents (23%) are 14 years or younger
A further 12 per cent are 15 to 24 years with 63% still living at home
There are two or more vehicles at 60% of all dwellings
The median weekly rent for a three-bedroom house is $350
City of Logan Mayor Darren Power said the results of the Logan Housing Study were both exceptional and exciting.
"The growth across the city has been astounding," Cr Power said.
"Families are flocking to our booming new residential developments, our established suburbs are being re-energised and we have also seen growth in the traditional Logan rural-residential lifestyle.
"It is undeniable that people love living in Logan and Council wants to make sure that experience is affordable and enjoyable as possible.
"The contents of this study will now help shape our Housing Strategy to establish best-practice policy options for future housing and residential development across the city.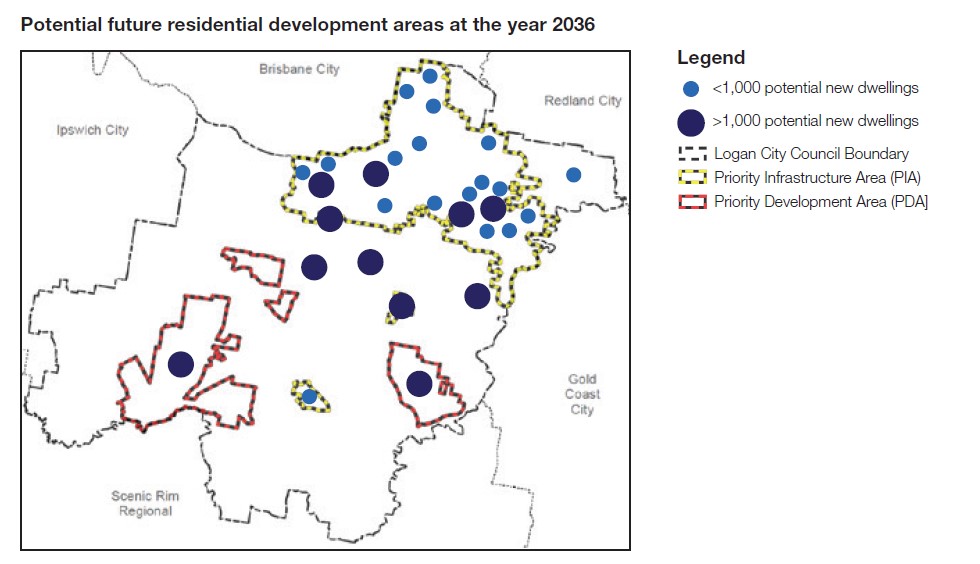 The study shows Logan's growth has been led by factors including:
Continuing residential development in established residential areas (in-fill);
Strong residential development in emerging growth areas; and
Priority Development Areas (PDAs) established by the State Government at Yarrabilba and Flagstone.
City Planning, Economic Development and Environment Chair, Deputy Mayor Jon Raven said the growth within the PDAs was just part of the Logan success story.
"Initiatives by Council have seen growth and investment in suburbs such as Park Ridge, Bahrs Scrub, Logan Reserve and Holmview that rivals what is happening out at Yarrabilba and Flagstone," Cr Raven said.
"In addition to providing affordable housing, our commercial areas such as Berrinba and Crestmead are attracting some major manufacturing companies which has delivered thousands of new jobs to Logan.
"Logan has always been a great place to live and work and now this study proves it."
Stage 2 of the Housing Strategy will involve detailed investigations on Planning issues including:
New residential growth fronts and managing development in established areas
Delivering infrastructure in an affordable and timely way
Examining diversity of lot sizes and dwelling types
Exploring ways to ensure residential development are close to jobs
Strategies for an ageing population
"This study identified opportunities for Council to explore and implement diverse, innovative, and affordable housing solutions for Logan's residents," Cr Raven said.
"The evidence provided by this Housing Study will allow us to set a strategic vision for the city that meets the expectations of the community as we shape our new Planning Scheme in 2025."
The van Sleeuwan family are among those living the Logan dream.
Jason and Jasmine van Sleeuwan love living in Logan's Yarrabilba because they say it is a mix of both suburbia and rural living.
"It's got all the facilities we need, but we can also stand in our front yard and admire the mountain and bushland views," Jason said.
Jason, who works in the security industry, grew up in Mackay while Jasmine, who is in retail, is from the Gold Coast. They have a six-year-old son, Tyson.
They previously lived in the Logan suburb of Tanah Merah, which flanks the busy M1.
They are currently renting in Yarrabilba while awaiting the construction of their new four-bedroom, two-garage house on a 448 square metre block which flanks natural bushland not far away from where they now live.
"We like it out here because it is just that bit further away from the hustle and bustle of other places," Jasmine said.
"There air is so clean, there's no smog and there are heaps of other families and kids in our area for us and Tyson to make new friends."
The study can be viewed here.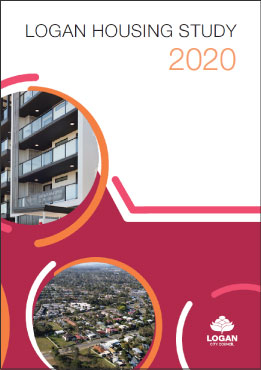 https://www.loed.com.au/wp-content/uploads/2020/10/Housing-study-02.jpg
379
868
Mark Honeysett
https://www.loed.com.au/wp-content/uploads/2022/06/LOED-Logo-Inline_header-340.png
Mark Honeysett
2020-10-20 10:41:49
2020-10-28 11:08:01
Study confirms Logan is booming