Fund to attract new business
A Logan City Council initiative to attract business and create employment has been tailored to target emerging sectors such as clean technology, health and medical providers and tourism.
The highly successful Investment Attraction Incentive Fund (IAIF) was this year allocated $3 million over the next three years to attract investment from business operations and projects that provide significant economic benefit and job creation for the City of Logan.
Economic Development Chair, Deputy Mayor Jon Raven, said amendments to the scheme, to be adopted at a future Council meeting, would enable Council to diversify the types of industry looking to set up business in the city.
"As our city continues to grow, we had to think about the kind of industries we could attract that would also provide employment opportunities for locals," Councillor Raven said.
"This creates real opportunities for the next generation, kids who attend school here, can go to university here or get a trade and then start a career somewhere close to home.
"By targeting emerging industries, we know there will be demand for these products and services well into the future.
"This provides some certainty around long-term economic outcomes for the city and has a ripple effect by attracting further investment."
Industrial biotechnology, education and health, transport and logistics and the creative arts are industries on the radar.
Council will also introduce a high priority investment list which targets assets that are either non-existent, under-represented or highly sought after by the business or residential communities.
This could include a hotel, short-term accommodation, tourism attraction, or boutique food outlets.
Since its inception in 2018, the initiative has attracted 15 businesses and is estimated to generate more than 940 new and retained jobs and inject around $120 million into the local economy once all projects have been completed.
Successful recipients include street sportswear brand LSKD; DHL Supply Chain; V Resource; Help Enterprises; Go1; The Plumbing Industry Climate Action Centre; ATP Science; Border Express; and BlockTexx.
BlockTexx founders Graham Ross and Adrian Jones recently relocated their textile recycling business from Sydney to a 2220 sqm operation at Loganholme.
The clean technology company recovers polyester and cellulose from textiles and clothing and will inject around $43 million into the local economy.
It will provide 30 jobs in the short-term and recycle 4,000 tonnes of textiles using the company's proprietary Separation of Fibre Technology (S.O.F.T.) solution.
Mr Ross said large manufacturers, government bodies, corporations and charities are all looking for opportunities to reuse and repurpose unwanted fabrics – such as uniforms, hotel sheets and unsold stock.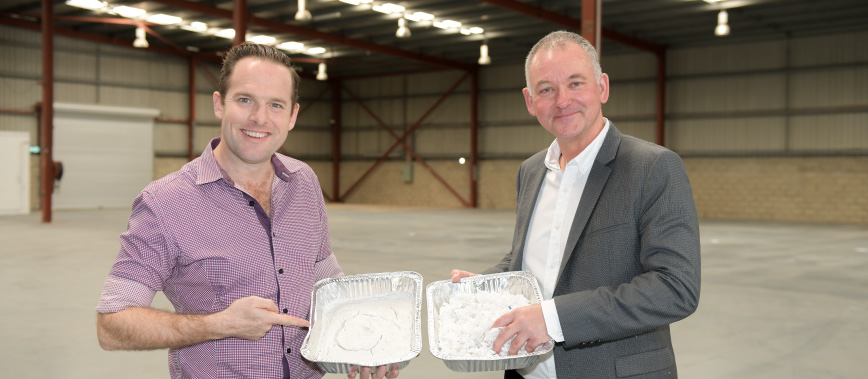 Deputy Mayor Jon Raven with BlockTexx co-founder Graham Ross and samples of recycled fabric"We spoke to a lot of Councils from around the county and we decided on Logan. The council has been highly supportive of our relocation from Sydney," he said.
"Logan ticks all the right boxes and we are excited to build Australia's first commercial scale textile recovery facility at our new location in Loganholme."
Visit our incentives page for more information on the Investment Attraction Incentive Fund and other incentives to invest in the City of Logan
https://www.loed.com.au/wp-content/uploads/2021/09/IAIF-BlockTexx.jpg
379
868
Mark Honeysett
https://www.loed.com.au/wp-content/uploads/2022/06/LOED-Logo-Inline_header-340.png
Mark Honeysett
2021-09-09 11:24:48
2021-09-30 14:04:38
Fund to attract new business