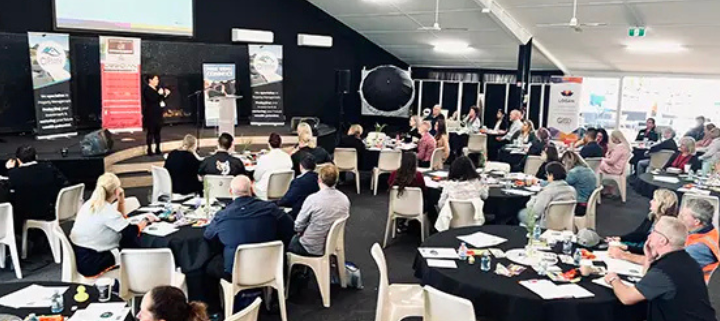 We Are The Business and Park Ridge Business Connect are doing it again! Our fourth small business conference is coming this September 2023.
The event will have amazing guest speakers ready to educate and inspire you on those all-important business matters. Plus our local Makers & Producers Showcase is back alongside our much-loved Tradie Stands.
Morning Tea, Lunch & Afternoon Tea are included in the ticket price plus a wealth of information from our fabulous speakers.
About the Speakers
Gina Lyell – Obsidian Marketing Solutions
Jo Connolly – That Social Chick
Gina & Jo are two chicks from Logan that know their stuff! Their duet presentation will be covering several key topics to help your Social Media presence including how to optimise your page and your posts for more reach, what days to post and how many times a week to post to get the best traction, using your socials to support your general SEO and much much more.
Scott Leaver – Greenbank Solar
Solar energy efficiency for your business, whether you are renting or owning your premises, is an important asset that will provide you with fixed costs in an ever-changing energy environment.
Scott Leaver from Greenbank Solar has been involved in the solar industry in Australia since its infancy. He will be sharing why you need an energy-efficient business and demonstrate real returns on investment numbers. Learn how to really understand your power bills and the real cost to your business.
Katrina Puranik – Ranking Australia
Katrina will be sharing the essential local SEO guide for small businesses and getting found online. Including what you don't know about Google My Business, what makes a good keyword, plus how to outrank & outperform your competitors. Katrina's will be an interactive workshop so make sure you bring your laptop with you!
Rhonwyn Learner – VERTANIUM
The reality is that MOST cyber criminals are not targeting the big end of town… they're targeting you. Many small businesses are being targeted as 'easy pickings' through their unsecured invoicing, single-layer security on emails and websites, and client data that isn't really protected because it's in the cloud. You're really making it far too easy for them. Rhonwyn will introduce you to the real risks, common threats and the steps to start protecting yourself and your business.