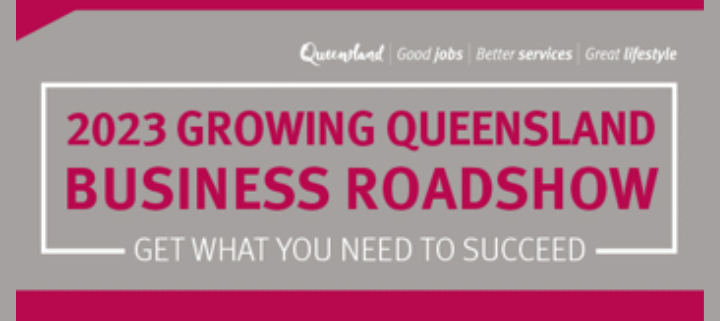 Get what you need to succeed – 2023 Growing Queensland Business Roadshows
By attending the roadshow you will hear about the Brisbane 2032 Olympic and Paralympic Games, working with government, transforming your workforce and mitigating supply chain challenges, plus lots more.
Four areas will be working in conjunction across the morning:
Improvement technique talks that share information to help build your business and improve your experience in working with government.
Key activity snapshots that communicate key government direction and initiatives.
Chat 1:2:1 for success with subject matter experts, local council, business mentors, and Business Chamber Queensland, regional manufacturing hub experts (selected locations only) and find out first-hand the answers to your questions.
Mentoring for Growth (M4G) sessions where you can talk freely with experienced mentors about challenges or issues you may be facing in your business. A separate registration is required for these sessions.
If you need further information contact us at: growqldbusroadshow@epw.qld.gov.au
Video and photography consent
The Queensland Government will have staff filming and/or taking photographs at this event. Please be aware that by attending this event, you consent to your voice, name and/or likeness being used without compensation. Photographs, footage and recordings shall be the sole property of the Queensland Government and may be used on our websites, social media channels and for marketing purposes. If you do not wish to be filmed, advise our staff on arrival.
Privacy notice
The Department of Energy and Public Works (the 'Department') is committed to the fair collection and safe handling of personal information in accordance with the Queensland Information Privacy Act 2009 (IP Act).
The Department is collecting personal information through this form to inform the development of future buyer and supplier communication strategies. This includes establishing a departmental register of our customers for the purpose of initiating future contact with you for a directly related service including:
attendance lists
event cancellation notifications
thank you emails and for future communications regarding upcoming events.
Limited personal information may be used for related research, policy or planning functions. Unless authorised or required by law, your personal information will not otherwise be disclosed to any other third party without your consent. Read more about Information Privacy on our Department of Energy and Public Works website at epw.qld.gov.au/about/information-privacy.
The event ticketing is hosted on the Localtix website. The Department is not responsible for the privacy, security practices or content of the Localtix website.