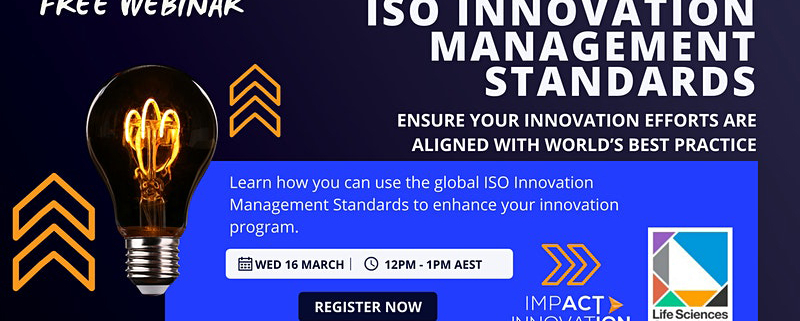 ISO Innovation Management Standards enhance the design and implementation of your innovation management system
About this event
Online Event Wednesday 16 March (Recorded for those unable to attend)
12:00pm – 1:00pm Australian Eastern Standard Time (AEST)
Join us at this upcoming Impact Innovation and Life Sciences Queensland online event to hear how to apply ISO Innovation Management Standards to improve innovation outcomes.
Impact Innovation's interactive webinar focuses on how to implement the new ISO Innovation Management Standards from a practical perspective. These standards will help you enhance the design and implementation of your innovation management system to drive social and economic returns on investment.
The webinar will provide an overview of the standards, provide insights as to their implementation around the world and unpack the key elements to establish successful innovation management systems.
Presented by the Chair of Australia's Innovation Management Standards Committee, Brian Ruddle, the workshop will cover:
The background to the development of these innovation management standards
Insights into the 5 published standards as well as those that are still in development.
How the innovation management standards can help your business
How to maximise the outcomes of your innovation efforts