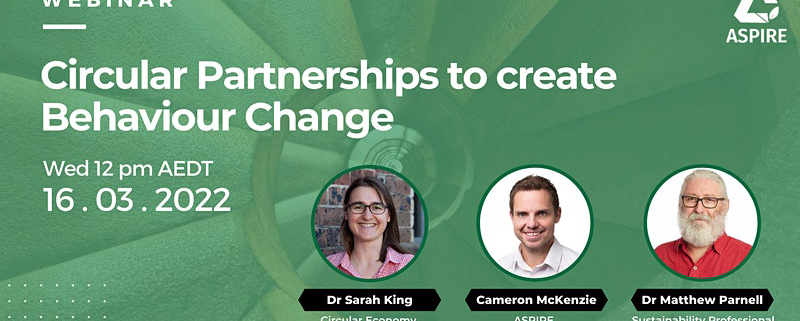 Learn how your organisation can leverage industry partnerships and encourage behaviour change to transition to a circular economy!
About this event
The need for industry collaboration and behaviour change to become more sustainable is largely understood. But in practice, it often poses certain challenges and difficulties. It is crucial that organisations work together to create circular products and bring about the transformation required to become sustainable.
Join our webinar featuring panellists Dr Sarah King (Circular Economy, CSIRO) and Dr Matthew Parnell (Sustainability design and organisational transformation), to learn how your organisation can effectively leverage industry partnerships and encourage behaviour change for circular innovation. Also hear from ASPIRE's CEO Cameron McKenzie who will share case studies of businesses utilising ASPIRE to build sustainable partnerships and reduce their environmental impact.
Panellists:
– Dr Sarah King: Senior Research Consultant for Circular Economy at CSIRO (Ending Plastic Waste Mission)
– Dr Matthew Parnell: Sustainability Professional and Educator, Living Systems design and Sustainability Culture.
– Cameron McKenzie: CEO of ASPIRE, Construction Innovation and Circular Economy
In this webinar you will learn:
How to harness the power of partnerships for circular innovation
How to drive culture change and organisational transformation to support your sustainability targets
How to join forces with other industries to reduce your environmental impact
We will also be conducting a 20 minutes Q&A with our expert panellists. Explore the power of partnerships and culture change to move your organisation one step closer to sustainability!