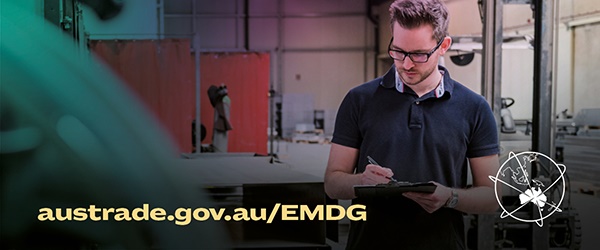 These webinars are aimed at helping you understand recent changes to EMDG to assist you in preparing your application.
Austrade's Export Market Development Grants (EMDG) program helps Australian businesses grow their exports in global markets. These grants encourage small to medium enterprises to market and promote their goods and services internationally.
From 1 July 2021 EMDG is operating as a forward-looking grant program, allowing grant recipients to plan their marketing and promotional activities with confidence, because they will know how much they will receive over the life of their grant agreement.
How do I know if my business is eligible?
You're eligible to apply for a grant if:
your turnover is less than $20 million for the financial year 2020–21
you are an Australian person (within the meaning of the EMDG rules)
you have an Australian Business Number
you haven't previously accessed 8 years of EMDG grants.
Your products are eligible if they're substantially of Australian origin and are:
goods
services
events
intellectual property or know how
software.